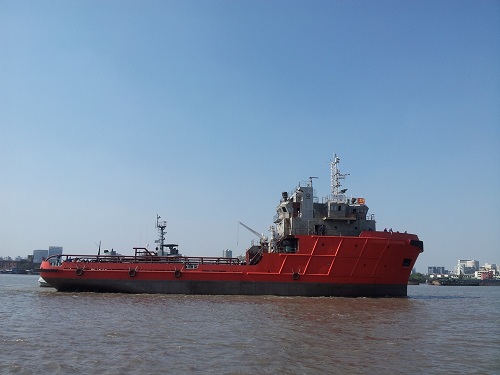 The ship is tugboat for Offshore Supply Vessel, which sails in offshore area.
The boat is mainly used for offshore supply for offshore boat operation, barge and oil platforms and other facilities, including proper shipment of deck-cargo, external oil and water supply; and also used for weigh anchor, towing and external fire-fighting.
Main Dimensions
Length of overall:   58.800m
Length of design water Line: 56.500m
Length between perpendiculars:  51.500m
Breadth:  14.00m
Depth:   6.50m
T-Design:  5.00m
T-MAX:   5.35M
TScantling :5.525m
Number of Sailors:  16 person + 10 person (stand-by)
Towing tension:
At the Maximum continuous power of the host, Just drag the bollard pull ~68t, reverse towing bollard pull ~60t.